Family Literacy Centers
Literacy is the foundation of self-reliance. For many African adults, education was interrupted due to lack of funds or family responsibilities.
FMF currently operates over 100 Family Literacy Centers in Africa. Literacy Centers currently serve over 21,500 adults and children.
Literacy Centers are available to communities at no charge. Most are staffed by local volunteers. Most of the books, games, and other materials have been donated. Local materials are purchased to stimulate the economy.
We require each community to donate a location. FMF makes minor improvements, ie. windows and screens, bookshelves, fans, electricity, paint, tile, banners, stools, chairs, mats, laptops, printers, Internet, and basic office supplies, etc.
We rely on generous donations from our world-wide sponsors to set up new literacy centers (approx. $3000/per LC), as well as monetary and physical help from the local communities.
---
Literacy Center Locations
Ghana -


(North to South)
Asaam
Kumasi - FRC
Kasoa - Ensign
Dodowa
FMF currently has a waiting list for new literacy centers of over 50. These are communities who have already met our requirements and are patiently waiting for light and knowledge for their children. Would you be willing to help us bring education to these families? Join us by donating any amount to bring literacy to these communities.
---
Literacy Center Education Tracks
Family Literacy Centers offer 6 tracks of education. Please consider a monthly donation today.
Literacy - Beginning to Advanced, "Mom School", Tutoring, etc.
Family - Days for Girls, Standing with Boys, Marriage Enrichment, Creating a House of Learning, Parenting Skills, etc.
Academic - School Fees (repaid via volunteer hours at the FLC), Scholar Skills, Online Learning, etc.
Vocational - Self-reliance, Entrepreneur Club, Vocational Training (Mechanics, Sewing, Computer Skills, etc.)
Leadership - Mindset Management, LIFEstory Transformation, Statesmanship Principles, Personal Development library, Mentoring, etc.
Agriculture - Food production and preservation, Farming, Livestock, Self-reliance, etc.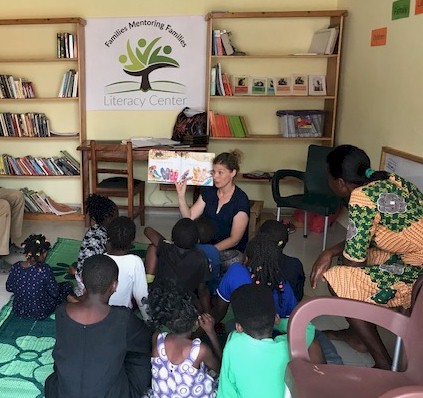 ---
Profile of a Literacy Center: Buduburam, Kasoa, Ghana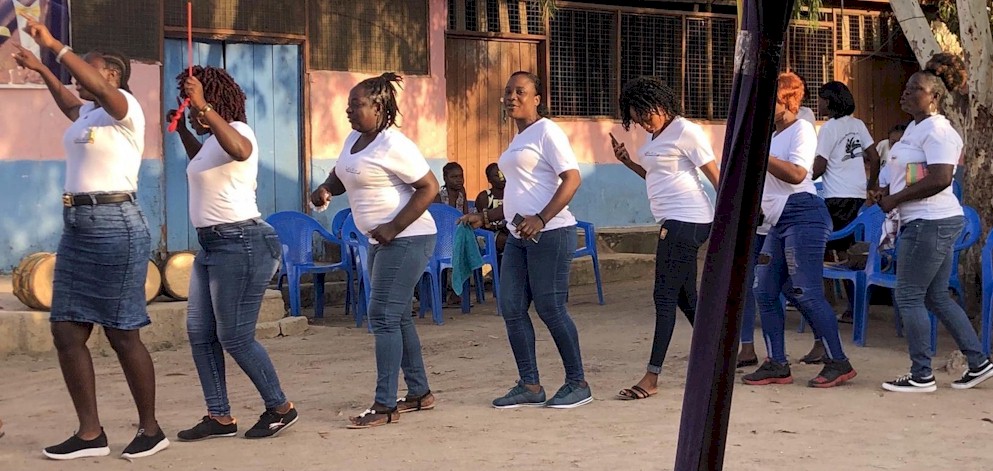 Sewing School students celebrate their graduation after completion of 2 years of literacy and vocational training.
Help us improve the lives and livelihoods of more sewing students by making a 1-time or monthly donation today.
---
Profile of a Literacy Center: Kumasi, Ghana

Teaching a class at the Kumasi, Ghana Literacy Center
Background
In most African countries there is a great need and desire for adult education. Even though Ghana's official language is English, the literacy rate is less than 40%. The cost of education is prohibitive. Additionally, most schools do not have books for children to read and discover, and educational games are not part of the traditional curriculum.
Mavis is the volunteer manager of this literacy center. She is a very patient and loving mentor to the learners that come to find refuge in books and educational games. To show appreciation for her many hours of service, FMF supporters provide school fees for Mavis's two children, thus receiving double "bang for their donation buck", creating education for many, many learners!

What we're missing... is YOU!
Even small donations can go a long way. All donations are fully tax-deductible.