Family Literacy Centers
Literacy is the foundation of self-reliance. For many African adults, education was interrupted due to lack of funds or family responsibilities.
FMF currently operates 34 Family Literacy Centers in Africa. Literacy Centers have served over 350 students who have read over 5000 pages.
Literacy Centers do not charge patrons for using the resources. Most are staffed by local volunteers. Most of the books, games, and other materials have been donated and brought to Africa. Materials available locally are purchased locally with donated funds to help stimulate the local economy.
We require each community to support their Literacy Center by donating a location. To prepare a location there are windows and screens to install, bookshelves, fans, electricity, paint, tile, banners, stools, chairs, mats, hand washing stations, laptops, printers, Internet, and basic office supplies.
To establish a new Literacy Center, we rely on generous donations from our world-wide sponsors as well as monetary and physical help from the local communities.
Literacy Center Locations
Ghana (North to South) - Tamale; Asaam; Kumasi - FRC; Kumasi - Asakore ("ASA"); Kumasi - Dabaan #1; Kasoa - Ensign; Kasoa - Buduburam; Dodowa
Kenya - Nairobi; Gitmah
Liberia - Smyth Road School
Uganda - Busia
We have our next 5 Literacy Center locations chosen and are ready to build as soon as the funds are raised. Join us by donating any amount to bring literacy to those who are hungry for knowledge!
Literacy Center Education Tracks
Family Literacy Centers offer 5 tracks of continuing education. Each track is designed to facilitate progress for the individual, as well as their family. We sometimes call a Literacy Center "Mom School" because of the many adult women who attend. Your donations of any size can do so much good for so many people, please consider a donation today.
Literacy - Beginning to Advanced, Mom School, Tutoring, etc.
Family - Days for Girls, Standing with Boys, Marriage Enrichment, Creating a House of Learning, Parenting Skills, etc.
Academic - Student Loans (repaid via volunteer hours at the FLC), Scholar Skills, Online Learning, etc.
Vocational - Self-reliance, Entrepreneur Club, Vocational Training (Mechanics, Sewing, Computer Skills, etc.)
Leadership - Mindset Management, LIFEstory Transformation, Statesmanship Principles, Personal Development library, Mentoring, etc.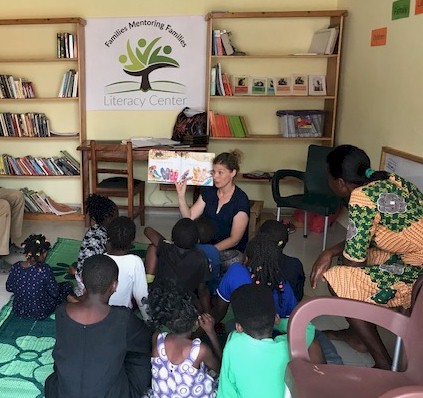 Profile of a Literacy Center: Buduburam, Kasoa, Ghana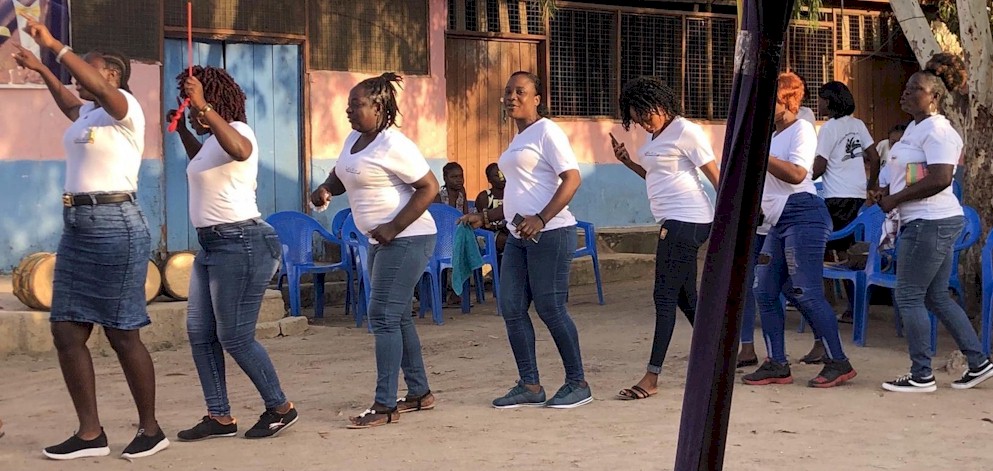 Sewing School students celebrate their graduation
Background
Approximately 12,000 Liberian refugees have been living in the Buduburam refugee camp since their civil war in the 1990's. Due to financial hurdles and emotional trauma, these Liberians have decided to stay in Ghana; however, they experience prejudice and ill treatment amongst locals. This creates job scarcity, loss of educational opportunity, and the inability to pay their children's school fees.
Matthew Davis, a Liberian living in Ghana, has set up a charity school called Matthew Cares Foundation. The school uses empty auxiliary classrooms of a Baptist church during the weekdays. One room is specifically designated as a library, thanks to an Eagle Scout project by a young man from the USA (who came to Ghana to complete his project).
Transformation
This library not only benefits the school, but it serves as a Family Literacy Center. It is home to the first FMF "Mom school", providing opportunity to women (and a few brave men) to pursue their education.
Attendance
This Literacy Center was opened in January 2019 with the promise that FMF would open a sewing school if they kept coming for literacy lessons and supporting/mentoring each other.
The sewing school was opened in December 2019, accommodating 16 new students on 13 machines at a location nearby. Other adult learners preferred to learn different vocational skills, such as baking.
In April 2020, these sewing skills proved invaluable as the women were able to sew face masks for distribution. Some masks were given to the local hospital, others were given to those who could not afford to purchase them. [use images SewingSchool]
In October 2020, a "graduation" ceremony was held for 45 learners, complete with presentations, music, food, and dancing! These 45 learners were thrilled to be recognized for their efforts! [use images LC-Buduburam-graduation]
As of January 2020, adult literacy classes are ongoing, and the children attending school also benefit daily.
Help us improve the lives and livelihoods of more sewing students by making a donation today.
Profile of a Literacy Center: Daban, Ghana
Teaching a class at the Deban, Ghana Literacy Center
Background
In most African countries there is a great need and desire for adult education. Even though Ghana's official language is English, the literacy rate is less than 40%. The cost of education is prohibitive (most parents choose to pay for private education). Additionally, most schools do not have books for children to read and discover, and educational games are not part of the traditional curriculum.
Mavis is the volunteer manager of this literacy center. She is a very patient and loving mentor to the learners that come to find refuge in books and educational games. To show appreciation for her many hours of service, FMF supporters provide school fees for Mavis's two children, thus receiving double "bang for their donation buck", creating education for many, many learners!

What we're missing... is YOU!
Even small donations can go a long way. All donations are fully tax-deductible.